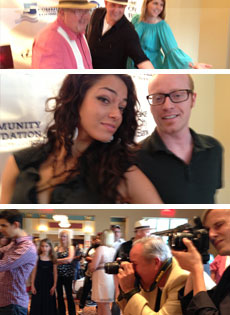 On June 8th, 2013, contestants in the Elkhart region auditioned at the Lerner Theatre for WNIT's new program "Michiana's Rising Star." Five finalists were chosen.
Billy D., singer
"Samuel Jay & Jewels," singers, keyboard, guitar
Jane Payton, singer
Deja Felder, dancer
Dara Marquez, spoken word
Thank you to everyone who auditioned. And thank you to the following regional sponsors: Community Foundation of St. Joseph County, Lake City Bank, Lexus of Mishawaka, and Nyloncraft.
---
Next: Culver
The Culver Academy in Culver will be the next regional host on Saturday, June 15 from 10am to 5pm. The event is free and open to the public.
The Finals
The top performers from each of the five regions will then compete at the WNIT studio each evening from Sunday, July 28 through Friday, August 2, to determine the grand prize winner and "Michiana's Rising Star." Said WNIT's Vice President for Production Angel Hernandez, "We've received over 135 entrants from all over our broadcast area. This is going to be an exciting and fun event!"