Ingredients
1/4 cup sugar-free orange marmalade or strawberry jam
2 (6 oz.) plain lowfat yogurt
1/4 tsp. cinnamon
Fresh fruit
Directions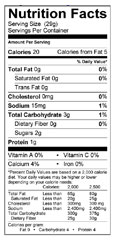 Soften marmalade or jam with a few drops of boiling water or microwave for 30 seconds.
Combine with yogurt and cinnamon.
Cover and chill. Serve with fresh fruit.
Serving size: 2 Tbsp. Number of servings: 14 (1-3/4 cup) Actual ingredients analyzed (if different from above): Analysis is only for the dip, not the fruit.
---
What do you think? Leave your comments below or you can go back home.