Ingredients
2 cups canned pumpkin
2 eggs or 1/2 cup egg substitute
3 Tbsp. brown sugar
12 packets aspartame or sucralose (Equal, Splenda)
1/4 tsp. salt (optional)
1 tsp. ground cinnamon
1/2 tsp. ginger
12 oz. evaporated skim milk
10 inch unbaked pie crust
Directions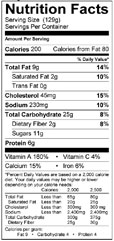 Preheat oven to 425 degrees (F).
Combine first 8 ingredients beginning with pumpkin and ending with evaporated milk.
Pour into pie shell.
Bake at 425 degrees (F) for 15 minutes.
Reduce oven to 350 degrees (F) and continue baking for another 45 minutes or until knife inserted into center comes out clean.
Refrigerate pie.
Nutrition Facts: Serving size: 1/10 of pie. Actual ingredients analyzed (if different from above): used 2 eggs in analysis; used salt.
---
What do you think? Leave your comments below or you can go back home.