Ingredients
2 medium red onions cut into eighths
2 small yellow summer squash, cut into 1/2" slices
2 small zucchini, cut into 1/2" slices
3 red, yellow and/or green sweet peppers cut into 1/2" slices
4 cloves garlic, thinly sliced
2 Tbsp. fresh parsley
2 Tbsp. Balsamic Vinegar
1 Tbsp. olive oil
1 tsp. dried oregano
1/2 tsp. salt
1/4 tsp. black pepper
Directions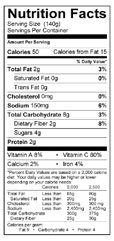 Preheat oven to 425 degrees (F).
In a 13"x9"x2" baking pan, combine onions, summer squash, zucchini, sweet peppers and garlic.
In a shaker, combine parsley, vinegar, oil, oregano, salt and pepper; cover and shake well.
Drizzle seasoning, oil and vinegar over vegetables and toss vegetables to coat.
Roast vegetables in a 425 degrees (F) oven for 25 minutes or until vegetables are crisp tender, stirring twice.
Serving size: 1/2 cup. Number of servings: 8
---
What do you think? Leave your comments below or you can go back home.