Dinner & A Book: Chocolate: A Bittersweet Saga of Dark and Light
The video is currently unavailable at this time.
About This Episode
Episode #504 - Chocolate: A Bittersweet Saga of Dark and Light by Mort Rosenblum
A Goose in Toulouse, Olives, Secret Life of the Seine and Who Stole the News?
This is a book about all things chocolate: its history, the process and the craving. Mort Rosenblum begins his book with the discovery of chocolate in Mexico by the explorer Cortes, its transportation to Spain and England, its transformation in France, Belgium and Switzerland and its fascination by women and men who equate its seduction with that of love. Rosenblum lives in France where the preparation of chocolate is considered an art form known only to the secretive French. However, Rosenblum says that if he ever has to live on a desert island, he would not be left there without French chocolate. One of the recipes on the show is Mole Poblano, a chicken dish prepared with chocolate in many
Original Airdate:

January 15, 2005
In This Episode
THE MENU

Mole Poblano
Chocolate Mousse
Hot Chocolate
Coffee

Decorate the table with colorful Mexican dishes for the Mole Poblano. Serve the Mole over white rice and serve with red or black beans. Add a tossed green salad with slices of oranges. Serve with a Mexican beer like Corona. For dessert serve the chocolate mousse and later on in the evening serve the hot chocolate. Play CD's of great Mexican music and watch the Mexican movie, "Like Water for Chocolate" or the French movie "Chocolate" with Juliette Binoche. Serve French or Belgian chocolate during the movie and sigh with euphoria.
The Book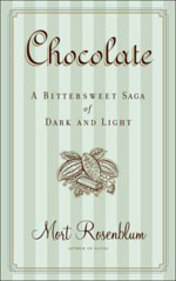 Chocolate: A Bittersweet Saga of Dark and Light
By Mort Rosenblum