Dinner & A Book: Eat, Pray, Love: One Woman's Search for Everything Across Italy, India and Indonesia
The video is currently unavailable at this time.
About This Episode
Episode #612
A celebrated writer's irresistible, candid, and eloquent account of her pursuit of worldly pleasure, spiritual devotion, and what she really wanted out of life. Around the time Elizabeth Gilbert turned thirty, she went through an early-onslaught midlife crisis. She had everything an educated, ambitious American woman was supposed to want — a husband, a house, a successful career. But instead of feeling happy and fulfilled, she was consumed with panic, grief, and confusion. She went through a divorce, a crushing depression, another failed love, and the eradication of everything she ever thought she was supposed to be.
Original Airdate:

August 23, 2008
In This Episode
The Book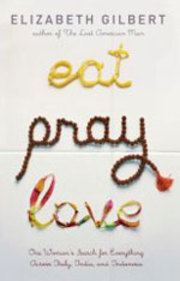 Eat, Pray, Love: One Woman's Search for Everything Across Italy, India and Indonesia
By Elizabeth Gilbert
The Menu
THE MENU

Antipasto
Risotto with mushrooms
Veal cutlets with lemon
Spinach sautéed with garlic
Dolce ("sweet"/dessert)