Dinner & A Book: Garlic And Sapphires The Secret Life of a Critic in Disguise
The video is currently unavailable at this time.
About This Episode
Episode #610
Garlic And Sapphires is Ruth Reichl's memoir of her 6-year stint as restaurant critic for the New York Times. This made her the most influential restaurant critic in the country and resulted in top restaurants posting her picture for employees and fawning over her when she visited these restaurants. To get around this problem, she created a disguise and false persona so that she could receive the same food and service as regular patrons. Once the restaurants caught on to this disguise, she continued to create others ones, eventually including one as her mother. Her reviews were enjoyed, not just for her critique of the food and service, but for their wit and entertainment. She also talks of the odd colleagues and editors, backstabbing, and political struggles that made up her life at the New York Times.
Original Airdate:

August 13, 2008
In This Episode
The Book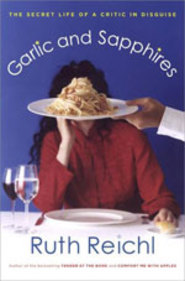 Garlic And Sapphires The Secret Life of a Critic in Disguise
By Ruth Reichl
The Menu
THE MENU

Hash Brown Potatoes
Noodles Sort of Thai
Spaghetti Carbonara
Matzo Brei