Dinner & A Book: Henry V
The video is currently unavailable at this time.
About This Episode
Episode #513 - Henry V by William Shakespeare
"Henry V" is a play that is associated with the opening of the Globe Theatre which opened in 1559 in London. It is a perfect play for these times because it is a plan about war, politics, history, and propaganda. As a young prince Henry V was wild, wasting much of his youth with bad company. He was Playboy prince. In "Henry V" he is a 25-year old monarch, grown into a warrior, a powerful leader and a brilliant military strategist. The play shows Henry planning and invading France in 1415, ending with the English victory at Agincourt leader, but by the end of Henry's reign, he loses France and makes "his England bleed." In Henry, Shakespeare created a hero for England, and Henry is a mirror of all English kings: he had a clear title to the throne; he had military skill and could deal with the common man.
Original Airdate:

March 15, 2005
In This Episode
Leeks in celebration of St. Davie's Day
Baked Chicken with Moroccan Sauce
Salad made of secret ingredients that reveal the guest's relationship with the host
Olives
Nuts
Cheese
Apples, grapes and pears
Whole Loaves of Bread
Strawberries in Red Wine
Ale and Claret
To present an Elizabethan Dinner cover the table with a white tablecloth and white napkins. Use pewter serving pieces. If you can find mother of pearl knives, use them as the only utensils. Use pewter dinner plates and pewter tankards. Play a CD of Renaissance harp and lute music. Light candles in pewter or brass candlestick s. Offer a silver bowl filled with water and a hand towel for hand washing before the meal.
The Book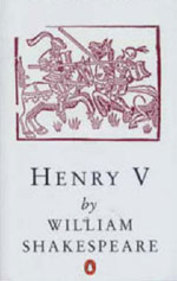 Henry V
By William Shakespeare