Dinner & A Book: The CIA And Congress: The Untold Stroy From Truman to Kennedy
The video is currently unavailable at this time.
About This Episode
Episode #509 - The CIA And Congress: The Untold Stroy From Truman to Kennedy by Dr. David Barrett
This is a non-fiction work on how "The Agency" responded to a handful of political bosses on Capitol Hill, in addition to those at the White House. Dr.Barrett has peeled back many layers of concealment to reveal how the federal government's most open branch conducted oversight of its most secretive agency. In this study of the early Cold War he challenges previous estimates of what the key members of Congress knew about the CIA, and what responsibility they bore for its
Original Airdate:

January 22, 2005
In This Episode
THE MENU

Ladda's Recipe for Yellow Curry
Moroccan Carrot Salad
Apple and Cabbage Salad
Wine and Berry Compote

Recipes where taken from SPIES, BLACK TIES & MANO PIES: Stories and recipes from CIA by Families All over the World by Jean M. Luther. I have chosen recipes that CIA families used all over the world. For each recipe David comments on how the CIA operated in each of the countries.


You can develop a CIA dinner by asking everyone to wear dark suits and sunglasses. Invite everyone to speak in hushed tones.
The Book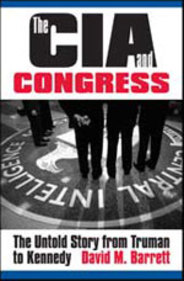 The CIA And Congress: The Untold Stroy From Truman to Kennedy
By Dr. David Barrett