Dinner & A Book
Dinner & A Book - Yes, Chef
Episode #1213 - Yes, Chef
Join me and my guest, Laura Horst, as we discuss Yes Chef by Marcus Samuelsson as we prepare an international meal inspired by award-winning chef, Marcus Samuelsson on Dinner and a Book.
Original Airdate: May 05, 2013
The Book
Yes, Chef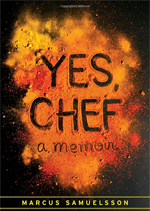 Find this book on Amazon
.
Web Extras
What do you think? Leave your comments below.