The DVD
---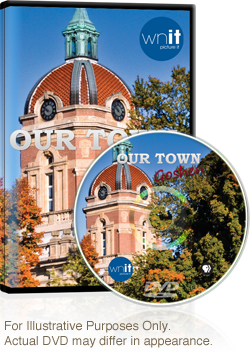 Format: Color, DVD, Widescreen, NTSC
Language: English
Region: Region 1 (U.S. and Canada only)
Aspect Ratio: 1.78:1
Number of discs: 1
Studio: WNIT Public Television Local Productions
DVD Release Date: December 5, 2010
Run Time: 56 minutes
Our Town Goshen
The Our Town series is all about the towns and the people within them who help tell the stories of what makes their special corner of the world unique. Goshen is rich in cultural and historical content. Everything from historical sites, to traditional high school hang-outs, churches, the college and so many other special places that are known only to those who live in the area and know the true spirit of what Goshen is all about.
With the help of volunteer videographers and a little training from WNIT's professional award winning Production team, ordinary citizens become volunteer videographers. Armed with their own home camcorders, they created a video scrapbook of the stories that make Goshen special. WNIT's professional staff utilized these video recordings, along with interviews held by the producers with the volunteer videographers, to professionally edit the stories and produce an hour documentary that reflects the emotional ties of the people who live, love and are passionate about
---
Purchase Our Town: Goshen Today!
At your request, WNIT Membership is included with your purchase. Buy it today!