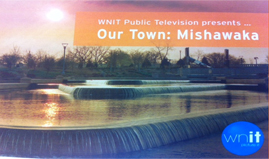 The one-hour "Our Town: Mishawaka" video documentary will feature the people, places and happenings of Mishawaka as experienced by those who call the city and town home.
During July, volunteer videographers shot hours of tape to capture the sights and sounds of Mishawaka. WNIT's professional staff then edited the footage into a one-hour documentary which will premiere on Sunday, August 19 at 7:30pm and repeat the same night at 9:00pm Eastern Time. The program will air during the WNIT Membership Campaign, with telephones answered by the volunteer videographers themselves!
---
What do you think? Leave your comments below or you can go back home.