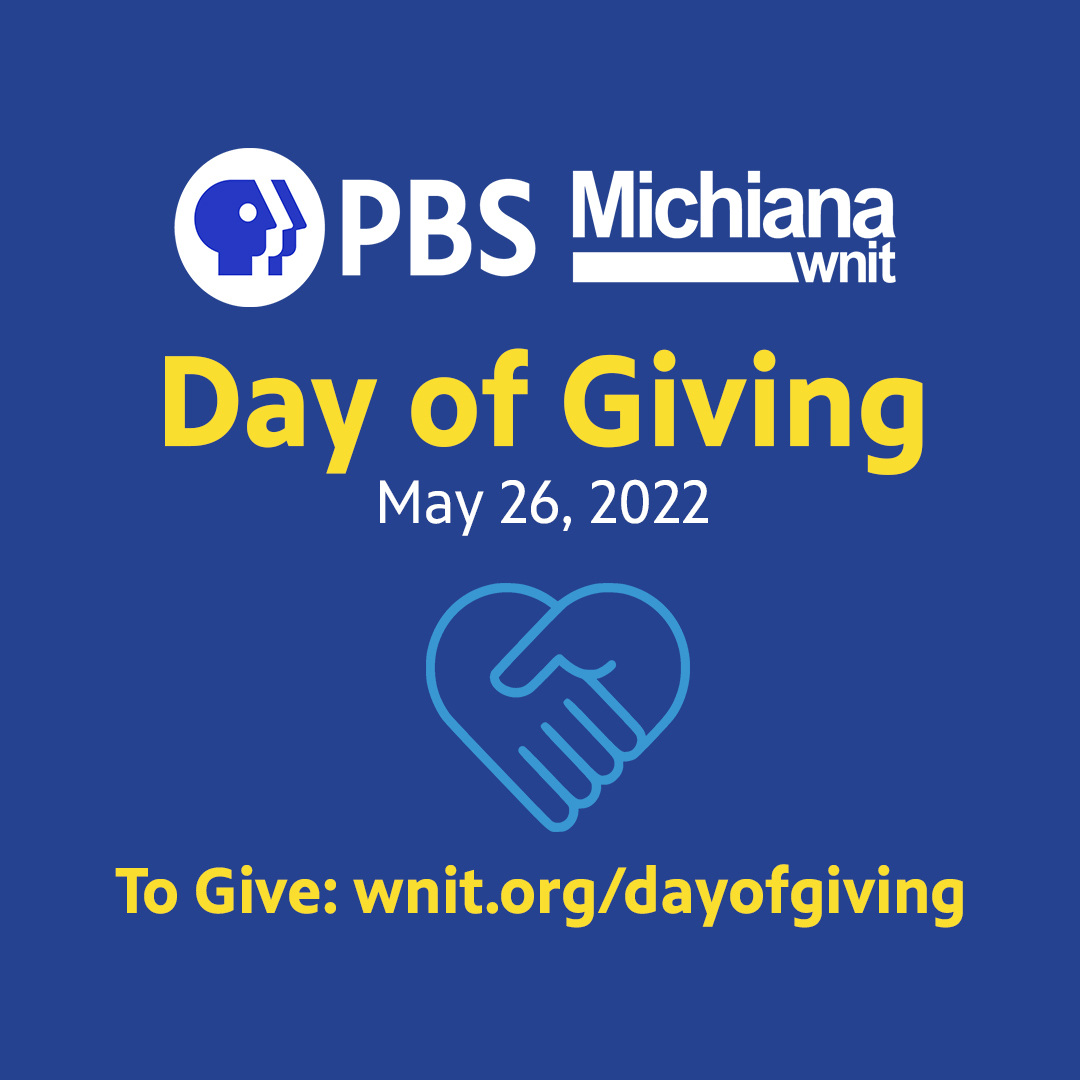 PBS MICHIANA - WNIT is excited to announce that on Thursday, May 26, 2022 we will celebrate our fifth annual Day of Giving, a chance for our donors to celebrate our mission, support the increased need as we offer additional educational resources to our community and double your gift through generous matching contributions from our lead donors. Thanks to generous challenge funds from the Jack and Shirley Appleton Estate and Don & Joan Lyons, all dollars raised will be matched up to $25,000 during the 2022 WNIT Day of Giving.
By joining us for this special opportunity, you will help us reach our challenge goal and have your donation doubled! On May 26th, starting at midnight and for the next 24 hours, go to www.wnit.org/dayofgiving and use your credit or debit card to donate to WNIT to help us surpass this $25,000 challenge. Checks, gifts of stock or securities and other forms of donation may be made up to May 26th by contacting Cindy McCraner at 574-675-9648 x330 or cmccraner@wnit.org. Gifts may also be mailed to PBS Michiana - WNIT at 300 West Jefferson Blvd., South Bend, IN 46601, but must be received by May 26, 2022 to count towards this challenge. Please note "WNIT Day of Giving" when sending your gift by mail.
PBS Michiana - WNIT recognizes the impact of our generous challenge grant donors and thanks all of you for your kindness to the station. It is only through your continued support and special opportunities such as the WNIT Day of Giving that we are able to bring you iconic PBS and local programs that impact our community. Your gifts also play a prominent role in our ability to expand educational programming and outreach to help all the children of our community have access to quality educational programming.
Thank you for helping WNIT to inspire, educate and unify the people and communities we serve.
To donate click here:
Day of Giving Donation