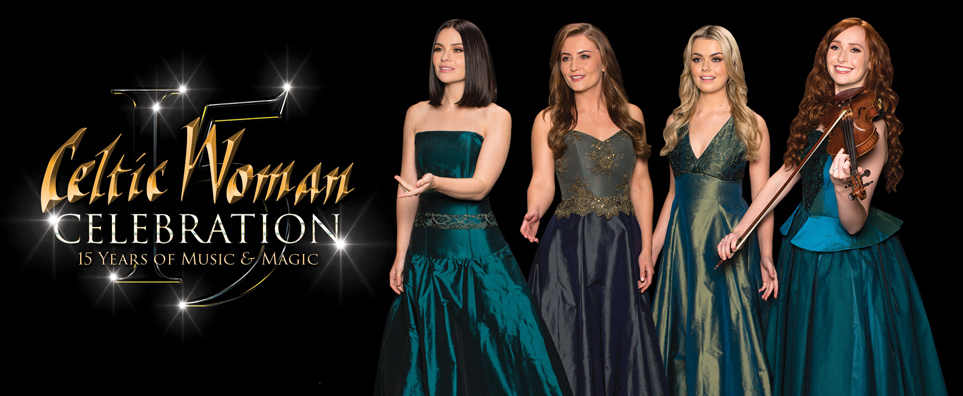 Tuesday, April 14, 2020 at 7:30pm
Blue Gate Theatre's Shipshewana Event Center
Shipshewana, Indiana
Celtic Woman returns to the area in 2020 to celebrate 15 phenomenal years of music-making as the most successful all-female group in Irish history. Celebration brings together their very favourite songs from the journey so far - songs that have created an incredible bond with audiences all over the world.  From the siren call of Orinoco Flow to the playful energy of Teir Abhaile Riu, we invite you to come dance with us in Ireland. Rejoice through the lilt of the fiddle and the beat of the drum. Experience the power of the uplifting anthems You Raise Me Up and the soaring harmonies of Danny Boy. We challenge you to hear our bagpiper lead us in Amazing Grace without shedding a tear.  The fully staged Celebration tour features the stunning band, two pipers, two drummers, traditional step-dancers, backing vocalists, and of course the four fantastic Celtic Woman soloists - Tara Mc Neill on fiddle and Irish harp, weaving her magic around the spine-tingling voices of Mairead Carlin, Eabha Mc Mahon and Megan Walsh. Feel the drama of the songs and stories come vividly to life as they swirl around the stage, catching the light in their sumptuous costumes. 
Regular tickets and Meet & Greet packages are available now with seats in the center sections, rows 7 through 13.  Let the celebration begin!