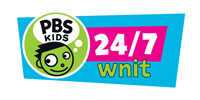 Thanks to the help of some great friends of WNIT Public Television, the "PBS Kids 24/7 Channel on WNIT" now here and available to all children in the Michiana area. All of the awesome PBS Kids shows you've come to love and trust will be available 24 hours a day on TV, online or mobile – and all for free!
The free service, features 24/7 educational programming and ensures PBS KIDS' high-quality content is available to all children and caregivers on a platform and at a time that works for them, including primetime, weekends and other out-of-school times when they are most likely to tune in. In fact, a new national study of parents with children ages 2-6 finds TV viewing is one of the top ways that families spend time together, with 89 percent of parents reporting they watch TV together as a family, 74 percent in favor of anytime access to educational programming and 37 percent ranking PBS KIDS as the best use of family screen time.
The channel will also be available as a live stream on wnit.org/pbskids247 and on the free PBS KIDS Video App for mobile and tablet devices.
With the launch of the multi-platform 24/7 PBS KIDS channel, all of Michiana's children will be able to access our trusted educational content anywhere, anytime and through any device. As the only free 24/7 kids' TV service in the Michiana area, the "PBS Kids 24/7 Channel on WNIT" will be a game changer for all families – especially our most underserved children, many of whom do not attend preschool and rely solely on over-the-air television for media content.
The live stream on www.wnit.org/pbskids247 incorporates a first-of-its kind integrated games feature, enabling children to toggle between a PBS KIDS show and an activity that extends learning – all in one seamless digital experience. This new feature is grounded in research demonstrating that measurable gains in learning are achieved when children interact with both PBS KIDS video and games. The games will align with the learning goals of each TV series, deepening children's engagement and supporting learning.
The all-new "PBS Kids 24/7 Channel on WNIT" is available over-the-air on WNIT Channel 34.3, select cable providers and anywhere on your mobile, tablet or computer via live stream at wnit.org/pbskids247!