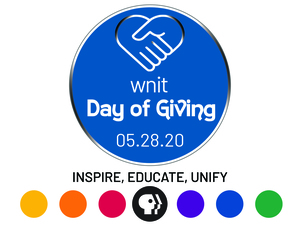 In these uncertain times, the need is even greater, as WNIT strives to continue and expand our services to the region. We are excited to announce that we have raised $20,500 in matching funds for the third annual WNIT Day of Giving on May 28, 2020.
Thanks to generous challenge grants from the Shirley and Jack Appleton Estate, and other "Friends of WNIT," all dollars raised will be matched up to $20,500 on and leading up to this day.
In addition, the stimulus bill also contains a one-time, above-the-line deduction for cash contributions up to $300 made to certain qualifying charities. All taxpayers are eligible to take this deduction, even those who use the standard deduction. The incentive applies to contributions made in 2020 and would be claimed on your tax forms next year. The new deduction does not apply to non-cash gifts or gifts from donor advised funds.
With the coronavirus pandemic and need for curriculum-based at-home learning materials, WNIT has risen to the challenge to expand our educational offerings during this critical time. We are only able to do so with the support of our many donors. By joining us during this special opportunity, you will help us reach our challenge and your donation will be doubled!
On May 28, starting at 12:00 a.m. and for the next 24 hours, go to www.wnit.org/dayofgiving and use your credit or debit card to donate to WNIT to help us surpass this $20,500 challenge.  Checks, gifts of stock or securities and other forms of donation may be made up to May 28 by contacting Steve Funk at 574-675-9648 x. 341 or sfunk@wnit.org. Gifts may also be mailed to WNIT at 300 West Jefferson Blvd., South Bend, IN 46601. All gifts postmarked by May 28 will count towards this challenge. Please note "WNIT Day of Giving" when sending your gift by mail.
WNIT Public Television recognizes the impact of our generous challenge grant donors and thanks you all for your kindness during this difficult time. It is only through your continued support, and special opportunities such as the WNIT Day of Giving, that we are able to bring you iconic PBS and local programs that impact our community and to rise to challenges to provide additional at-home learning opportunities for the children of our community.
Thank you in advance for making the WNIT Day of Giving on May 28 a huge success!