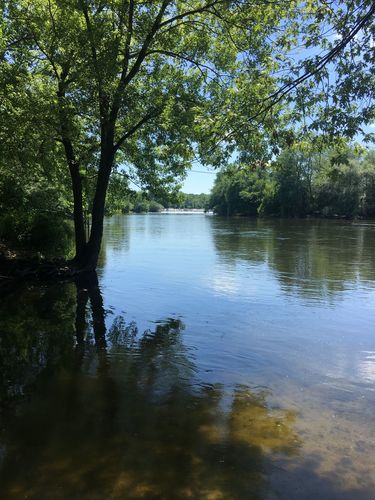 WNIT to Produce Documentary on the St. Joseph River, combined with Summer Full of Events – Then, Now and Always…The St. Joseph River Story highlights Celebrate the St. Joe Summer Activities
PBS Michiana - WNIT is producing a documentary on the history of the St. Joseph River, which will highlight a collaborative effort with communities along the River to "Celebrate the St. Joe" with a summer full of events and activities culminating with a preview of the documentary on August 28, prior to it airing on WNIT on September 9.
Throughout its history, the St. Joseph River has always attracted and sustained life. From furs and food to transportation, power, and recreation, the river serves a central role in the lives of those who call its banks home.  To this day, its waters provide for Native People. In the past, those waters attracted global powers to the region and later, powered the industries that built the cities of today.  However, rapid industrialization and population growth took a toll on the river during the 19th and 20th centuries, altering its flow and polluting its waters. Today, however, the river is undergoing an astonishing transformation.  Its waters are cleaner, and it serves as a point of pride for its communities, inspiring new development and recreational opportunities. 
WNIT tells the story of the St. Joseph River, including the people, history, and life along this storied river from Hillsdale to Lake Michigan. We celebrate how it has shaped the region and continues to be an integral part of our community. We hope this documentary will accelerate the renewed appreciation for the St. Joseph River and inspire people to preserve and cherish the river for future generations.
Then, Now and Always…The St. Joseph River Story, a WNIT documentary, will be previewed at Celebrate the St. Joe themed community events up and down the river on Saturday, August 28. A complete listing of events and celebrations as well as a trailer of the documentary, is available at www.wnit.org/celebratethestjoe
The documentary Then, Now and Always…The St. Joseph River Story premieres on PBS Michiana - WNIT Thursday, September 9, at 8:00 p.m.
The documentary will include an original score by composer Dr. Marvin Curtis. The score will be available for local symphonies to perform in celebration of the St. Joseph River. WNIT also plans to produce educational materials for in-classroom teaching on the River.
"We are pleased to produce this documentary on our region's greatest natural resource," said WNIT President and General Manager Greg Giczi. "From the Native Americans who called it shores home to the early fur traders to the recent redevelopment along its shores, the river has been a critical lifeline to our community."
"We are very excited for a summer full of Celebrate the St. Joe events," Giczi continued. "We have seen great community response to moving forward as things become safer with a celebration of the St. Joe. August 28 is going to be a great day for all the communities along the St. Joseph River and we look forward to sharing this PBS Michiana - WNIT documentary all along its shores."
On the education materials, Giczi added, "A core part of the PBS mission is providing curriculum-based educational materials. We think the educational segments and curriculum will be of great interest to area schools in teaching science with a very local feel"
Continue to watch for more information on Celebrate the St. Joe events, activities, public screenings of the documentary, symphony performances and educational materials at www.wnit.org/celebratethestjoe, as well as on-air announcements on PBS Michiana - WNIT Channel 34.1 and PBS Michiana - WNIT2 Channel 34.2