Legends of Michiana: Joe Kernan
Full Video
If this video isn't available, please let us know.
WNIT is proud to present its newest installment of the Legends of Michiana series, featuring Joe Kernan, on Thursday, March 21 at 8pm, and again, Sunday, March 24 at 6pm and Monday, April 1 at 10pm on 34.1 and Tuesday, March 26 at 9pm & Wednesday, March 27 at 10pm on 34.2
---
Lt. Governor Joe Kernan 1998 Notre Dame Commencement Speech
If this video isn't available, please let us know.
About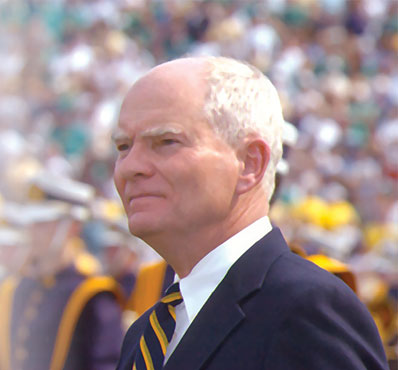 The Legends of Michiana documentary series focuses on people and organizations that have been influential to the growth and development of the Michiana area.
Throw out the name Joe Kernan to anyone that has lived in Indiana for quite some time and they'll immediately think of Indiana's 48th Governor. Those in the Michiana area will remember Joe as the former Mayor of South Bend. Few know the entire background story of this amazing individual who dedicated his life to being a public servant.
Joe Kernan is the oldest of nine children who grew up in South Bend, IN and graduated from St. Joseph High School (SB). He went on to become a catcher for the baseball team at the University of Notre Dame where he would graduate with a degree in Government in 1968.
Following graduation, Joe enlisted in the United States Navy in 1969 and served as a Naval Flight Officer. During his service, Joe was shot down in 1972 by the enemy over North Vietnam and was confined as a prisoner of war for almost 11 months. He was returned to the US in 1973 and continued to serve in the Navy until 1974. He was given numerous awards for his courageous efforts including the Navy Commendation Medal, two Purple Hearts and the Distinguished Flying Cross.
Upon his service completion, Joe worked for several companies before becoming South Bend's city controller, and ultimately, winning the mayoral election of South Bend in 1987, 1991 and 1995. In 1996 and 2000, Joe and Frank O'Bannon were elected to the top two positions in Indiana government with Joe serving as Lieutenant Governor. Upon the passing of Frank O'Bannon in 2003, Joe assumed the position of Governor of Indiana.
Joe and his wife, Maggie, have given so much to this community and the state of Indiana through their generosity, leadership and love for the people they have served. Join WNIT as we give viewers an inside look into the life of a true visionary and community leader.
Underwritten by
CHRIS AND CARMI MURPHY

REX AND ALICE A. MARTIN FOUNDATION

ANN AND BILL MOREAU, ANGIE AND PHIL FACCENDA & BARNES & THORNBURG, LLP

ROBERT BARTELS

DANIEL FITZPATRICK

DEBBIE AND RICH HILL

JOYCE AND MATTHEW WALSH

CAROL AND JOHN ABERNETHY

ALICK'S HOME MEDICAL EQUIPMENT

NANCY AND STEVE ANDERSON

ZOREEN AND RAFAT ANSARI

JOHN AND KATIE ANTHONY

BILLIE AND DAVE BANKOFF

ALBERTA AND MIKE BARNES

JENNIFER AND PATRICK BARTH

B. PATRICK BAUER

DEBORAH AND ROBERT BERNHARD

BILL AND BETH BINGLE

JOANN AND JOSEPH BLAZEK

DEBBIE LADYGA-BLOCK AND DON BLOCK

TED AND PEGGY BOEHM

JACK BOROWSKI

JOE AND JOHN BRODEN

JANN AND TOM BRUNNER

MAYOR PETE BUTTIGIEG & THE CITY OF SOUTH BEND

NANCY AND BRUCE CARTER

PAT AND GENE CAVANAUGH

PAUL CHOLIS

SEAN COLEMAN

CORGEL GROUP

DLZ INDIANA LLC

KATHY DAVIS

MARY PAT AND BOB DEPUTY

MIKKI DOBSKI-SHIDLER

JILL AND JOE DONNELLY

LINDA AND BIPIN DOSHI

GREG AND MARY DOWNES

DOWNTOWN SOUTH BEND, INC.

ELKHART CHILD DEVELOPMENT CENTER

EMMIS COMMUNICATIONS

ANNE FAHERTY

MEGAN AND GAVIN FERLIC

SUSAN AND TOM FISCHBACH

CITY CLERK KAREEMAH FOWLER

BARB AND STEVE FREDMAN

JODY AND MIKE FREID

ANDRE GAMMAGE

CAROLYN AND LAWRENCE GARBER

LISA AND STEVE GERBER

GARY GILOT

LISA AND JOHN GREGG

MELANIE SMITH-GUILLAUME AND ALFRED GUILLAUME

MAURA AND WALT HALLORAN

MRS. AND MR. GREGORY HAHN

HEART'S DESIRE ANTIQUE MALL

JENNIFER AND FRED HELMEN

HOLY CROSS COLLEGE

HOLY CROSS VILLAGE

HORIZON BANK

KATIE HUMPHREY & RALPH KOMASINSKI

IBEW LOCAL UNION 153

INDIANA UNIVERSITY OF SOUTH BEND

INNOVATIVE IMMERSIONS ®

JONES PETRIE RAFINSKI

JOAN AND YATISH JOSHI

FRANK JULIAN

CAROL AND CRAIG KAPSON

MARIJO AND KEVIN KELLY

BILL KENEALY

KARL AND MARGARET KING

JAMES KUEHL

LABORER'S LOCAL 645

JOE LOUGHREY

PEG AND STEVE LUECKE

PAUL AND JESSICA MAICH

ROSEMARY MANDRICI

MARCUS REALTY, LCC

VELVET AND DAVID MATTHEWS

SHARON MCBRIDE

MCDONALD PHYSICAL THERAPY

VICKI MCINTIRE & CHARLES HAYES

ANDREW MCKENNA

PAT AND BOBBI MCMAHON

MICHIANA ANTIQUE MALL

MIDWEST LEAGUE OF PROFESSIONAL BASEBALL

AMY AND LES MILLER

ANN AND SAM MILLIGAN

THE MILTON HOME

MONTERROSA LAW GROUP

BUTCH MORGAN

JAMES MUELLER

CRESENT MUHAMMAD

GLADYS MUHAMMAD

MARY LOU AND PETE MULLEN

PAT AND KATE MURPHY

KEVIN CHARLES MURRAY

KATHLEEN AND MARK NEAL

NEMETH, FEENEY, MASTERS & CAMPITI P.C.

TOM NEW

NIEZGODSKI PLUMBING, INC.

MARY PAT AND DICK NUSSBAUM

BOB AND CHERYL O'CONNOR

JAMES O'ROURKE

PENNY HUGHES INVESTEMENTS

PERSONNEL PARTNERS INC.

PFEIFER, MORGAN & STESIAK

LAURA AND DAVE PFLUM

CARMEN PIASECKI

RIVER BEND HOSE SPECIALTY

ROOFING PRODUCTS INTERNATIONAL

KAREN AND DON SCHEFMEYER

LORRIE AND BILL SCHMUHL

FRANKLIN SCHURZ

SENIOR1CARE AND LEGACY CNA TRAINING

SEW CREATIVE THREADS

BONNIE AND HARRY SHAFFER

LYNDA AND CHARLES SIMON

SOUTH BEND COMMON COUNCIL

SOUTH BEND CUBS

SOUTH BEND MUSEUM OF ART

ST. ANDREWS PRODUCTS

ST. JOE COUNTY DEMOCRATIC CENTRAL

STEEL WAREHOUSE

JOYCE AND DICK STIFEL

BILL STUART

CHERYL G. SULLIVAN AND FRANK SULLIVAN, JR.

SUNNY ITALY CAFÉ

ANN MARIE AND SCOTT THOMAS

JANET AND LARRY THOMPSON

MARY LOU AND DENNIS TOOLAN

KATIE AND BRAD TOOTHAKER

DEB AND BOB URBANSKI

VAN HORNE JEWELERS

DIA AND JOHN WALSH