Rafat & Zoreen Ansari: Gifted Hands
If this video isn't available, please let us know.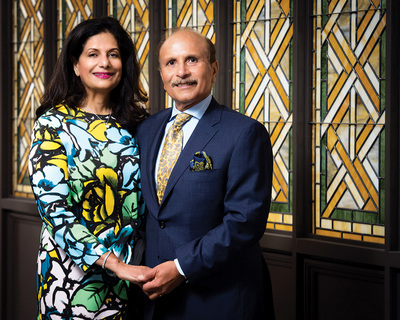 About
Part of the Legends of Michiana series.
In this WNIT biography, we examine doctors Rafat and Zoreen Ansari and how their impact in medicine, research and devotion to the community has led to cutting edge cancer care, an autism center and an institute for global engagement with religion. The Ansari family has created a remarkable difference through their diligent effort of compassion and kindness.
---
Airdates
September 29th, 2022 at 8pm on 34.1

October 1st, 2022 at 6pm on 34.1

October 2nd, 2022 at 7pm on 34.2

October 8th, 2022 at 4pm on 34.1
Underwritten by
Joyce and Roger Foley

Carmi and Chris Murphy
John and Katie Anthony

Jo Ann and Joe Blazek

Deb and Paul Cafiero

Robert E. Clemency Jr., M.D.

Pat and Don Cressy

Duke and Katy Downey

Jody and Mike Freid and Family

Kurt Janowsky - Navarre Hospitality

Matthew Kahn and Janine Felder-Kahn

Carol and Craig Kapson

Marijo and Kevin Kelly

Sam and Anna Milligan

Sue and Pat Ruszkowski

Joyce and Tom Sopko

Sopko, Nussbaum, Inabnit, Kaczmarek
Attorneys at Law

Dr. David Taber

Sandy and Nellie Vogel

Kathy Malone Beeler and Brian Regan

Drs. Edward and Karen DelleDonne

Katy and Tim Demarais

Dr. E. Michael Feltman

Drs. Holly and Jim Harris

Andy and Duke Jones

Nancy and Dan Kletzing

The Lauber Kitchen and Bar

Sara and Abe Marcus

Nephrology Physicians, LLC

Dr. Thomas and Mary Ann Poulin

Sheriff Bill and Kim Redman

Donna and Mark Richter

Dr. Mike and Jill Rotkis

Lorrie and Bill Schmuhl

South Bend Community School Corporation

Joey and Kurt Stiver

Janet and Larry Thompson

Industry Friends of Rafat: Mark Urbanski
Bob Whitehead, and Deepali Tracey

Nancy and Steve Anderson

Marsha Brook and Fred Kahn
In Memory of Lisa Lerman

Gene and Pat Cavanaugh

The Cellar Wine Bar and Kitchen

City of South Bend / Mayor James Mueller

Christy and Jacob Clow

Steve and Lisa Gerber

Marybeth Inabnit: In memory of her husband
Dr. Ralph Inabnit

Ivy Tech Community College

Connie Keigley

Kim Keigley

Andy and Joy Kostielney

Kruggel Lawton CPAs

McDonald Physical Therapy

Northern Indiana Hearing Center
Cheri Schuster & Terry Hoffman

South Bend Clinic

Kathleen and David Sparks

Joyce and Dick Stifel

Pam Szmanda

Richard and Kathleen Urda, Jr

Don Westerhausen

Dr. Robin Zon and Mr. Gary Ludwig