Dinner & A Book
Dinner & A Book - Alexander Hamilton
This video is not available right now. Check again later.
Episode #602 - Alexander Hamilton
From National Book Award winner Ron Chernow, a landmark biography of Alexander Hamilton, the Founding Father who galvanized, inspired, scandalized, and shaped the newborn nation. Ron Chernow, whom the "New York Times" called "as elegant an architect of monumental histories as we've seen in decades," now brings to startling life the man who was arguably the most important figure in American history, who never attained the presidency, but who had a far more lasting impact than many who did. An illegitimate, largely self-taught orphan from the Caribbean, Hamilton rose with stunning speed to become George Washington's aide-de-camp, a member of the Constitutional Convention, coauthor of "The Federalist Papers," leader of the Federalist party, and the country's first Treasury secretary.
Original Airdate: July 05, 2008
The Book
Alexander Hamilton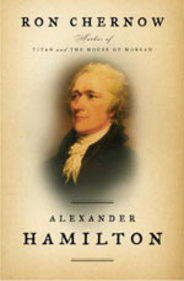 Web Extras
What do you think? Leave your comments below.