Dinner & A Book: Alexander Hamilton
The video is currently unavailable at this time.
About This Episode
Episode #602 - Alexander Hamilton by Ron Chernow
From National Book Award winner Ron Chernow, a landmark biography of Alexander Hamilton, the Founding Father who galvanized, inspired, scandalized, and shaped the newborn nation. Ron Chernow, whom the "New York Times" called "as elegant an architect of monumental histories as we've seen in decades," now brings to startling life the man who was arguably the most important figure in American history, who never attained the presidency, but who had a far more lasting impact than many who did. An illegitimate, largely self-taught orphan from the Caribbean, Hamilton rose with stunning speed to become George Washington's aide-de-camp, a member of the Constitutional Convention, coauthor of "The Federalist Papers," leader of the Federalist party, and the country's first Treasury secretary.
Original Airdate:

July 5, 2008

Last Re-airdate:

July 7, 2008
In This Episode
THE MENU

Ropas Viejas (Torn Clothes) and Black Beans
Black Beans
Caramel flan
For a drink, mix fresh lime juice, some frozen lime concentrate, a little sugar and rum. Mix well. Serve with sliced lemons and limes..
The Book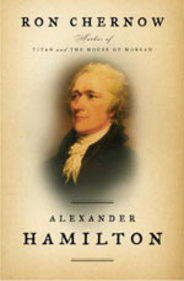 Alexander Hamilton
By Ron Chernow