Dinner & A Book: Beside the Ocean of Time
The video is currently unavailable at this time.
About This Episode
Episode #609 - Beside the Ocean of Time by George MacKay Brown
Beside the Ocean of Time is set in the Orkney Islands, on the fictitious island of Norday in the mid 1930s. First published in 1994, the novel follows Thorfinn Ragnarson, a boy whose imaginary adventures take us back in time to important moments in the history of the island. Bored with school, he is thought to be lazy and idle by his sisters, the schoolteacher, and others on the island.
Original Airdate:

August 16, 2008

Last Re-airdate:

August 18, 2008
In This Episode
THE MENU


A Simple Sea Scallop
Clapshot: potatoes, carrots and turnips
Lamb chops with Currant Jelly
Baked Pear with Whiskey
The Book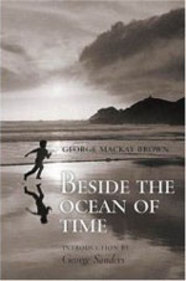 Beside the Ocean of Time
By George MacKay Brown