Dinner & A Book
Dinner & A Book - Come This Way
Episode #1205 - Come This Way
Join me and my guest, Irene Eskridge, as we discuss Come this Way, There is an Exit by Nimbilasha Cushing. We'll prepare a southern breakfast as we learn about the life of a young sharecropper from the South on Dinner and a Book.
Original Airdate: February 02, 2013
The Book
Come This Way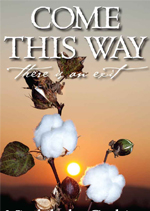 Find this book on Amazon
.
Web Extras
What do you think? Leave your comments below.