Dinner & A Book: Me Talk Pretty One Day
The video is currently unavailable at this time.
About This Episode
Episode #501 - Me Talk Pretty One Day by David Sedaris
Barrel Fever, Naked, Holidays on Ice, Dress Your Family in Corduroy and Denim and Children Playing Before a Statue of Hercules: An Anthology of Outstanding Stories
Original Airdate:

December 30, 2008
In This Episode
THE MENU

Lobster Salad
Pan Seared Scallops in Citrus
Asparagus
Baguette
Grapes in Red Wine
White Wine and French Lemonade

For the Bistro lunch... Decorate a table covered in a red checkered tablecloth with white napkins and 1 flower in a small red vase. Wear a beret or a chef's hat and hire an accordionist to play old French favorites. If you can't find an accordionist, play songs by Edith Piaf. Serve the lobster salad as a first course. Bring in the platter of scallops and asparagus and end the meal with the grapes in cream sauce. Follow the lunch with a reading of your favorite chapter in the book and end the afternoon with a French movie preferably Mon Oncle, Jules et Jim or a TV program on the life of Edith Piaf.
The Book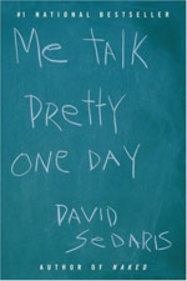 Me Talk Pretty One Day
By David Sedaris