Dinner & A Book
Dinner & A Book - Mozart's Last Aria
Episode #1209 - Mozart's Last Aria
Join me and my guests Gabrielle Robinson and Mike Keen as we discuss the life of Mozart's sister in Mozart's Last Aria by Matt Rees. We'll prepare some Viennese dishes. And we will try to answer such questions as: Was Mozart poisoned? And why wasn't his famous sister recognized for her musical talents …on Dinner and a Book.
Original Airdate: March 23, 2013
The Book
Mozart's Last Aria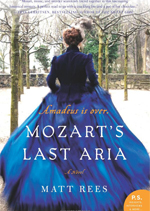 Find this book on Amazon
.
Web Extras
What do you think? Leave your comments below.