Dinner & A Book
Dinner & A Book - Out Stealing Horses
This video is not available right now. Check again later.
Episode #908 - Out Stealing Horses
Out Stealing Horses has been read around the world. It tells the story of Trond Sander, a 67 year old man who has moved to a remote Norwegian riverside cabin, only to have all the turbulence, grief and overwhelming beauty of his youth come back to him one night while he's out on a walk. Immediately the reader is immersed in a decades old story of searching and loss. Join me and my guest, Tuck Langland as we discuss Per Petterson's Out Stealing Horses as we prepare a Norwegian meal of open faced sandwiches, torsk and a dessert of raspberries and strawberries and maybe even some Aqua Vit.
Original Airdate: October 31, 2009
The Book
Out Stealing Horses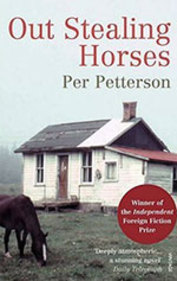 Find this book on Amazon
.
Web Extras
What do you think? Leave your comments below.