Dinner & A Book: Secrets of the Tsil Café
The video is currently unavailable at this time.
About This Episode
Episode #903
Caught between traditional old World Italian cuisine and New World American foods, Thomas Fox Averill shows us that food is the reflection of life's shifting flavors. And food is the deepest express of love. Join me and my guest Marshall King as we discuss Secrets of the Tsil Café as we make preparations for a reconciliation meal.
Original Airdate:

September 26, 2009

Last Re-airdate:

August 16, 2010
In This Episode
The Book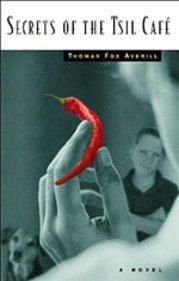 Secrets of the Tsil Café
By Thomas Fox Averill
The Menu
THE MENU

Avocado-Gooseberry Pudding with Raspberry Sauce
Guava and Chocolate Dressing
Boiled Zucchini with both Old World & New World Sauce
Buen Appetito/Tsil Salad