Dinner & A Book: The Broker
The video is currently unavailable at this time.
About This Episode
Episode #503 - The Broker by John Grisham
A Time to Kill, The Firm, The Pelican Brief, The Client, The Chamber, The Rainmaker, The Runaway Jury, The Partner, The Street Lawyer, The Testament, The Brethren, A Painted House, Skipping Christmas, The Summons and The King of Torts
Original Airdate:

January 8, 2005
In This Episode
THE MENU

Antipasta
Panne
Tagliatelle Pasta with Chicken Sauce
Veal Scaloppine with Marsala and fresh asparagus
Ciao Bella Gelato with Ladyfingers soaked in Marsala Wine and topped with Amaretto and whipped Cream

Serve the meal with Italian Chianti and good Italian bread from Lucchese's Italian Restaurant in Elkhart.

This meal can actually be prepared in 20 minutes if you have pre-cooked the pasta. This is one of the best meals I have ever had on Dinner and a Book so put on a Dean Martin, Andrea Bochelli or Luciano Pavarotti cd and enjoy a great meal. Use Italian-designed dishes, chianti wine and savor the aroma of the best in Italian cooking.
The Book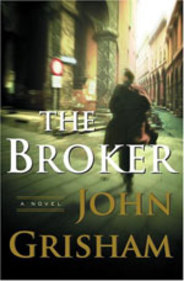 The Broker
By John Grisham