Dinner & A Book: The Curious Incident Of The Dog In The Night-Time
The video is currently unavailable at this time.
About This Episode
Episode #508 - The Curious Incident Of The Dog In The Night-Time by Mark Haddon
This is Mark Haddon's first work for adults, but it was published simultaneously in an imprint for young readers too.
Original Airdate:

February 15, 2005
In This Episode
THE MENU

Ham steak
Broccoli
Macaroni and cheese with red food coloring
(Christopher likes the color red, becomes very anxious when he is faced with anything yellow, and therefore always carries red food coloring with him)

Boston Baked Beans
(To canned beans, add brown sugar, mustard and Worcestershire sauce)

Tomatoes, sliced
Strawberries
Red Strawberry shakes

None of this food is difficult to prepare so I leave it to your imagination to prepare these very simple dishes according to your own recipes.

We decorated the table with a red tablecloth, red dishes, and red candles so that Christopher is comfortable with the food prepared for him. When he is comfortable, he is able to take some chances and accomplish new tasks. He also reduces anxiety by solving math problems, puzzles and working with prime numbers.
The Book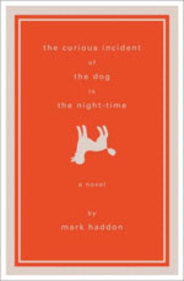 The Curious Incident Of The Dog In The Night-Time
By Mark Haddon