Dinner & A Book: The Last Time They Met
The video is currently unavailable at this time.
About This Episode
Episode #505 - The Last Time They Met by Anita Shreve
Fortune's Rock, The Pilot's Wife, The Weight of Water, Resistance, Where or When, Strange Fits of Passion, Eden Close
Original Airdate:

January 25, 2005
In This Episode
THE MENU

Crab Cakes with Black Bean and Corn Salsa
Peaches with Balsamic Vinegar and Peppercorns
Robert Mondavi Chardonnay
Samuel Adams Beer

On a patio or balcony, set a table with a nautical theme using blue as the main color. Include a bucket of ice filled with Samuel Adams beer and Robert Mondavi Chardonnay white wine. Light some lanterns and scatter white tea lights around the table. String white lights in the trees surrounding the patio or balcony. Enjoy your seaside picnic.
The Book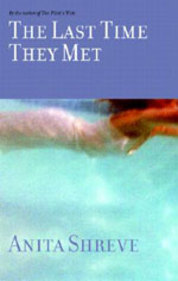 The Last Time They Met
By Anita Shreve