Dinner & A Book: The Stone Boudoir
The video is currently unavailable at this time.
About This Episode
Episode #702 - The Stone Boudoir by Theresa Maggio
The Stone Boudoir by Theresa Maggio is a study of the island of Sicily, and island noted for its ancient history, ancient Greek and Roman ruins along with the influence of the French invaders of the early 18th century with striking stone landscapes and caves containing homes and apartments. Theresa Maggio discovered her roots on her first visit to Sicily.
Original Airdate:

September 15, 2007

Last Re-airdate:

April 19, 2008
In This Episode
THE MENU

Arancini
Chicken Marsala with Sage
Potato Salad with Olives, Tomatoes and Capers
Spicy Orange Salad with Green Onions

Linda Luchessi, Professor of Italian Studies and a Dante specialist, is the guest.
The Book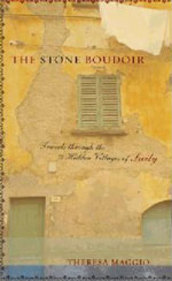 The Stone Boudoir
By Theresa Maggio