Dinner & A Book: The Sun Also Rises
The video is currently unavailable at this time.
About This Episode
Episode #710 - The Sun Also Rises by Ernest Hemingway
The Sun Also rises is considered the first great novel by Ernest Hemingway. Set in France and Spain, a group of American and English expatriates, scarred by the effects of World War I, follow the action of the bull fight festival in Pamplona, Spain. The novel has undercurrents of suppressed emotion and hidden values.
Original Airdate:

November 10, 2007

Last Re-airdate:

June 2, 2008
In This Episode
THE MENU


White Asparagus with homemade mayonnaise
Patatas Bravas
Cumin-Flavored Carrot Salad
Cubes of cheese marinated in olive oil and rosemary
Asparagus wrapped in proscuitto
A bowl of almonds and a bowl of Spanish olives
The Book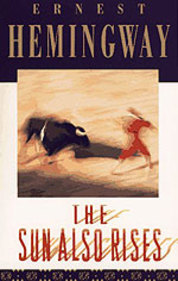 The Sun Also Rises
By Ernest Hemingway