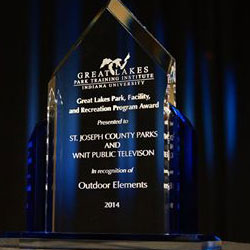 WNIT's Outdoor Elements is the recipient of the 2014 Great Lakes Park Training Institute "Facility and Recreation Award." This award is given by the Institute's Board of Regents to recognize innovative park programs or facilities. The award will be presented at the Institute, February 25, 2014, at an awards dinner at Pokagon State Park in Angola, Indiana. Since 1947, the Great Lakes Park Training Institute has provided training and education programs designed for park and recreation agencies, professionals, and technicians. It also has a long tradition of recognizing excellence through its awards program.
"St. Joseph County Parks is honored to receive this regional recognition of the outstanding partnership with WNIT public television in showcasing natural areas and the people who care for them in Michiana and beyond," says Evie Kirkwood, Director of St. Joseph County Parks and long-time host of the show. WNIT's Brenda Bowyer is the program's producer.
Other recent awards won by Outdoor Elements include: First Place by the Hoosier Outdoor Writers in the 2012 Broadcast Category for the "Fins & Feathers" episode (2012), First Place in the Hoosier Outdoor Writers Broadcast category for 2011, and First Place in the Broadcast category of the 2010 Hoosier Outdoor Writers Awards-in-Craft contest.