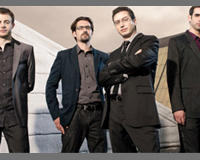 WNIT Public Television and the University of Notre Dame's DeBartolo Performing Arts Center proudly present Resournding Earth on channel 34.1 on Friday, October 25 at 10pm and Saturday, October 26 at 4pm. Resounding Earth was commissioned by the University of Notre Dame DeBartolo Performing Arts Center and the Virginia Commonwealth University School of the Arts, with additional funding from Chamber Music America Classical Commissioning Program, with generous funding provided by The Andrew W. Mellon Foundation, and the Chamber Music America Endowment Fund.
Resounding Earth by renowned composer Augusta Read Thomas is a 28-minute work for a percussion quartet featuring more than 125 bells from a wide variety of cultures and historical periods. Thomas composed the piece and the Chicago-based Third Coast Percussion ensemble performed it live on September 30, 2012, at DeBartolo's Leighton Hall.
For the one-hour documentary, WNIT interviewed Augusta Reed Thomas along with the Third Coast Percussion ensemble to explore the musicality and insight in the making of each movement. In addition, WNIT interviewed Dr. Douglas Hall, Notre Dame associate professor in the college of engineering, to discuss the science of metallurgy that constitutes the various sounds made by bells. Anna Thompson, Executive Director of the DeBartolo Performing Arts Center, provided the University's perspectives on the importance of encouraging and celebrating the human spirit through the performing and cinematic arts.
Composed in collaboration with Third Coast Percussion, Resounding Earth gave Thomas the opportunity to work with the four young musicians whom she met while they were studying at Northwestern University--Owen Clayton Condon, Robert Dillon, Peter Martin and David Skidmore.