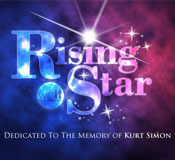 Lampkin Magic Productions is proud to present the WNIT Rising Star Magnificent 7 Live in Concert on Friday October 11th at 8:00 p.m. A benefit for WNIT, the two hour event hosted by WNIT's Gordy Young will feature the top seven performers from the Rising Star Contest, which recently took place the week of July 29th, 2013.
Featuring the contest winner, spoken-word artist Dara Marquez, the first runner-up, singer Brandon Williams, and third place runner-up, dancers Matt Smith and Kate McGowan. Joining them, and rounding out the Magnificent 7, will be singer Billy D, singer/songwriter Joey Garcia, singer Carolyn LaDue, and singer/songwriter, Ivory West. The concert will feature contemporary songs, spoken word, and ballroom dancing, all to take place at the beautiful Palais Royale Ballroom at the Morris Performing Arts Center in South Bend.
Come join the excitement as WNIT partners with Lampkin Magic Productions for their first ever Live Concert Benefit and takes you on a magical journey of entertainment. Staged by Ralph Lampkin, Jr.
Tickets are $20.00 and are available at 574-235-9190 and online at www.morriscenter.org.
---
Learn More About The Magnificent 7
---