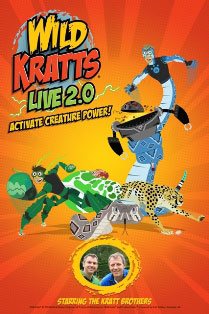 Saturday, November 16, 2019 at 4pm
Morris PAC, South Bend, IN
"Wild Kratts LIVE 2.0– Activate Creature Power!" Get ready to dive into another classic Wild Kratts adventure with the Kratt brothers as they combine live action and animation, with Martin and Chris LIVE on stage and the rest of the Wild Kratts team on screen, at the Tortuga HQ. Which creature powers will they activate and what new and amazing WOW! facts will you learn? Experience, live-on-stage, the electrifying excitement and the inspiring quest of the Kratt Brothers that make the hit television series Wild Kratts a family favorite time and time again!
Tickets are available through the Morris Performing Arts Center at Morris Center - Wild Kratts tickets.