Dinner & A Book
Dinner & A Book - A Hoosier Holiday
Episode #1614 - A Hoosier Holiday
Hoosier writer of Sister Carrie and An American Tragedy, Theodore Dreiser and his friend artist Franklin Booth, decide in 1916 to drive 2000 miles from New York to Indiana and back to discover the real Midwest and revisit Indiana which Dreiser had left 20 years before. Dreiser spent his formative years in Terre Haute, Sullivan, Evansville and finally Warsaw, Indiana. Gail and co-host Bill Firstenberger travel with writer, Theodore Dreiser through his book on a sentimental journey back to Dreiser's home state, Indiana.
Original Airdate: April 29, 2017
The Book
A Hoosier Holiday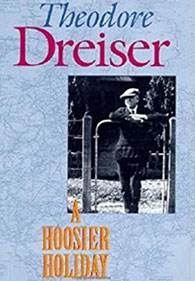 Find this book on Amazon
.
Web Extras

---

Watch Segment View Field Notes

Description

Marshall V. King enjoys a prohibition era drink at Tapastrie in downtown South Bend. Bartender Wally Ruston serves up crafted cocktails and the colorful stories behind them.
What do you think? Leave your comments below.