Dinner & A Book
Dinner & A Book - Eva Peron
This video is not available right now. Check again later.
Episode #709 - Eva Peron
This biography of Evita, the saintly madonna of Argentina recounts Eva Peron's humble birth, her extraordinary rise to power in Argentina at the side of her husband General Juan Peron, and her short and legendary reign as a virtual queen, dispensing comfort to the masses before she died from cancer at the age of 33.
Original Airdate: November 03, 2007
The Book
Eva Peron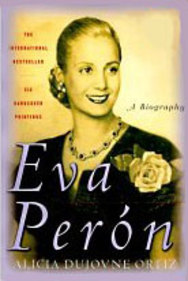 Web Extras
What do you think? Leave your comments below.