Dinner & A Book
Dinner & A Book - Garden of Marvels
Episode #1401 - Garden of Marvels
Ruth Kassinger's book, A Garden of Marvels, Ruth wants to know why her kumquat tree died while her other plants flourished. Determined not to repeat her failure, she set out to learn the fundamentals of botany. We explore her book on the secret lives of plants while preparing an autumnal repast of pumpkin soup, fresh greens, roasted root vegetables and baked apples, the food of love. Join me and my guest, Evie Kirkwood as we discuss how we discovered that flowers have sex and leaves eat air in Ruth Kassinger's A Garden of Marvels.


Original Airdate: January 03, 2015
The Book
Garden of Marvels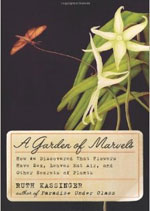 Find this book on Amazon
.
Photos
What do you think? Leave your comments below.