Dinner & A Book
Dinner & A Book - How to Forage for Mushrooms without Dying
Episode #2217 - How to Forage for Mushrooms without Dying
"How to Forage for Mushroom without Dying" by Frank Hyman is a beginner's guide to identifying 29 wild, edible mushrooms. Gail Martin travels to Wellfield Botanic Gardens in Elkhart to meet Eric Garton. Together they discuss the book and prepare a few mushroom-inspired dishes on a camp stove.
Original Airdate: May 20, 2023
The Book
How to Forage for Mushrooms without Dying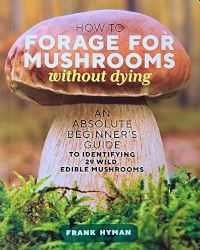 Photos
What do you think? Leave your comments below.