Dinner & A Book
Dinner & A Book - Midwest Foraging
Episode #1603 - Midwest Foraging
Last spring we ventured in to the spring gardens at the Wellfield Botanic Gardens in Elkhart, Indiana with Eric Garton to check out what the gardens offer for foragers. Now it's autumn and the plants have turned to the colors of fall, shorter days and cooler nights. We forage in the gardens for the last food of the summer while discussing Midwest Foraging by Lisa M. Rose.
Original Airdate: January 21, 2017
The Book
Midwest Foraging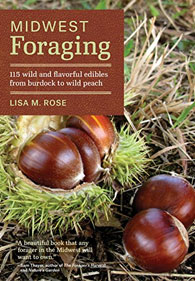 Find this book on Amazon
.
Lisa Rose\\\\\\\'s Blog
.
Web Extras

---

Watch Segment View Field Notes

Description

Marshall V. King chats with Bobby Singh about Indian chutney. The Maple Indian Cuisine in Goshen serves four kinds of chutney – mint, tamarind and onion (all made in house) as well as mango which is imported from India.
What do you think? Leave your comments below.