Dinner & A Book
Dinner & A Book - New Expressions in Origami Art
Episode #2107 - New Expressions in Origami Art
Executive Director Eric Garton welcomes Gail Martin to Wellfield Botanic Gardens for a walking tour of origami sculpture as they discuss Meher McArthur's book New Expressions in Origami Art. The meal is Japanese and the tour features a travelling exhibit of origami-cast sculptures as we celebrate inventiveness and creativity through one sheet of paper.
Original Airdate: February 19, 2022
The Book
New Expressions in Origami Art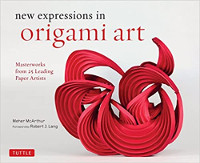 Find this book on Amazon
.
Photos
What do you think? Leave your comments below.