Dinner & A Book
Dinner & A Book - Orphan Train
Episode #1615 - Orphan Train
Between 1854 and 1929, so-called orphan trains ran regularly from the cities of the East Coast to the farmlands of the Midwest or face a childhood and adolescence of hard labor and servitude These children were predominately Irish Catholic. Gail Martin is joined by co-host Rebecca Kubacki to discuss the fates of the children looking for a new home in "Orphan Train" by Christina Baker Kline.
Original Airdate: May 06, 2017
The Book
Orphan Train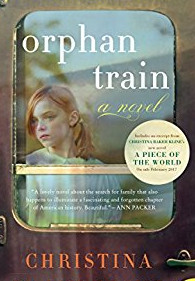 Find this book on Amazon
.
Web Extras

---

Watch Segment View Field Notes

Description

Joey DiMaggio shows you can eat well and sugar free with an easy recipe for vegan Black Forest cake.
What do you think? Leave your comments below.