Dinner & A Book
Dinner & A Book - The Alchemist
Episode #1405 - The Alchemist
Written by Brazilian-born author, Paulo Coelho, The Alchemist, has sold more than 65 million copies in 56 languages. The Alchemist follows the journey of a Spanish shepherd boy named Santiago, believing a recurring dream to be prophetic as he searches for his passion, his destiny. My guest, Ida Watson, chair of the WNIT Board of Directors, and I discuss Paulo Coelho's international best seller,
Original Airdate: January 31, 2015
The Book
The Alchemist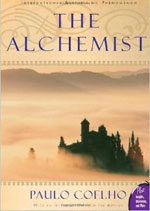 Photos
What do you think? Leave your comments below.