Dinner & A Book
Dinner & A Book - The Feast of All Saints
Episode #1908 - The Feast of All Saints
Gail Martin is joined by Alfred Guillaume to discuss New Orleans before the Civil War. It's a look at "The Feast of All Saints" by Anne Rice. Look for a Creole meal and a conversation about people of color who lived in the Big Easy as free citizens prior to 1865.
Original Airdate: February 22, 2020
The Book
The Feast of All Saints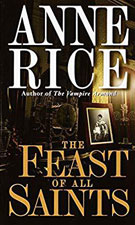 Photos
What do you think? Leave your comments below.