Dinner & A Book
Dinner & A Book - The Gatekeeper
Episode #1618 - The Gatekeeper
Franklin D. Roosevelt's personal secretary for more than twenty years, Missy Le and was one of his most trusted advisors and the gatekeeper to the Oval Office. She was the first presidential "chief of staff and was largely ignored or misrepresented by historians after her death. Joan Vidic joins Gail Martin to reveal the role of Franklin Roosevelt's personal secretary who aided and advised him for more than 20 years as they discuss Kathryn Smith's "The Gatekeeper."
Original Airdate: June 24, 2017
The Book
The Gatekeeper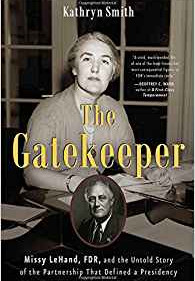 Find this book on Amazon
.
Web Extras

---

Watch Segment View Field Notes

Guest: Bryan Williams
The Brass Eye

Description

Marshall V. King stops by The Brass Eye in Niles for a talk with Bryan Williams about the difference in making a classic martini and a dirty martini.
What do you think? Leave your comments below.