Dinner & A Book
Dinner & A Book - The Stone Boudoir
This video is not available right now. Check again later.
Episode #702 - The Stone Boudoir
The Stone Boudoir by Theresa Maggio is a study of the island of Sicily, and island noted for its ancient history, ancient Greek and Roman ruins along with the influence of the French invaders of the early 18th century with striking stone landscapes and caves containing homes and apartments. Theresa Maggio discovered her roots on her first visit to Sicily.
Original Airdate: September 15, 2007
The Book
The Stone Boudoir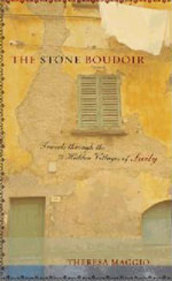 Web Extras
What do you think? Leave your comments below.