Dinner & A Book
Dinner & A Book - The Underground Railroad
Episode #1605 - The Underground Railroad
When Colson Whitehead was a child he imagined the Underground Railroad as a subway beneath the earth that escaped slaves could ride to freedom. He read through slave narratives from the 18th and 19th centuries to get a feel for what life might have been like for Cora, a 15-year-old slave who had escaped from a Georgia plantation. Gail Martin and guest Irene Eskridge discuss the journey and make a meal that Cora might have had in Colson Whitehead's The Underground Railroad.
Original Airdate: February 04, 2017
The Book
The Underground Railroad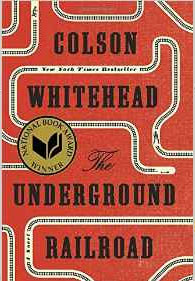 Web Extras

---

Watch Segment View Field Notes

Description

Joe DiMaggio creates a vegan sweet potato pie from scratch demonstrating that going vegan doesn't mean you go without sweet treats.
What do you think? Leave your comments below.