Planned Giving
Charitable gifts are one of the most important and fulfilling ways you can help shape the world around you.
Many have found that spending the time necessary to decide what to give, when to give, and how to give can help assure maximum impact from their gifts.
Charitable gifts need not compete with your personal and financial goals. In fact, such gifts may actually help you accomplish personal planning objectives in ways that benefit you, your loved ones, and your charitable interests.
Deciding what and when to give
The way you choose to make your gifts can affect the amount you give. In fact, carefully selecting the best property and timing for your gifts may actually allow you to give more at the same after-tax cost.
Types of Gifts to Consider
Cash-The most popular choice
Tax benefits are available for gifts of cash when you itemize deductions on your return. The cash you donate for charitable purposes can thus bring welcome tax savings.
Assets other than cash
Gifts of low-yielding securities, real estate, and other similar properties can offer a tax-efficient way to make meaningful gifts with little or no effect on your spendable income. For all practical purposes, you are allowed to use "paper profits" to help reduce federal and perhaps state income tax.
Give securities while "keeping" them
Give from retirement accounts
Balance capital gains through gifts
Gifts over time
As a part of your financial planning, you might want to arrange for gifts that will be received after you and your loved ones no longer need the assets used to fund the gifts.
Give through your will
Give through living trusts
Give through life insurances
Give through retirement plans
Give gifts that give back
---
Planning Tips
Gifts must be completed on or before December 31 in order to create an itemized deduction.
If you anticipate being in a lower income tax bracket next year because of reduced income tax rates or a change in your income, deductions for charitable gifts completed this year may save more in taxes.
When choosing gifts of non-cash property, for greatest tax savings choose a readily marketable asset that has been owned for at least one year and has increased the most in value.
When planning a gift of securities, please contact us or have your advisor do so to help complete the gift, and be sure to allow adequate time to complete the transactions.
Insurance policies that may no longer be needed for payment of estate taxes may be an excellent source for charitable gifts.
Retirement plan designations can be a convenient way to provide for charitable gifts while saving both estate and income taxes for your heirs.
Increases in the amount that can be left free of gift and estate taxes can be effectively increased through the use of charitable trusts and similar gift plans.
---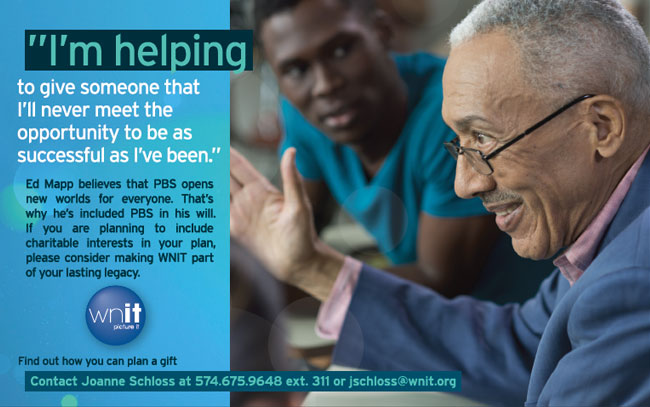 ---
More information is available regarding the ideas mentioned above. You may wish to contact your financial advisors as a starting point in discussing which ideas may be most applicable to your situation. As always your gifts are appreciated and will be used wisely. If we can be of any assistance, please contact Steven Funk at sfunk@wnit.org.