Dinner & A Book
Dinner & A Book - Dirt: Adventures in Lyon
Episode #2003 - Dirt: Adventures in Lyon
Marshall V. King joins Gail Martin for a discussion featuring French chefs, the food of Lyon and Bill Buford's five year quest to learn French high cuisine. The book is "Dirt: Adventures in Lyon" and and the conversation is superb cuisine and the art of regional cooking in France.
Original Airdate: January 16, 2021
The Book
Dirt: Adventures in Lyon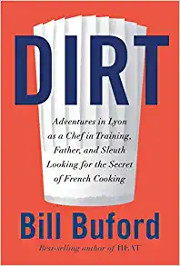 Find this book on Amazon
.
What do you think? Leave your comments below.