Dinner & A Book
Dinner & A Book - Notes from a Small Island
Episode #1604 - Notes from a Small Island
After two decades in Britain, Bill Bryson decided it was time to move back to the USA. But before leaving his much-loved home in North Yorkshire, Bryson insisted on taking one last trip around Britain, a sort of farewell tour of the kindly island that had been his home for 20 years. His aim was to take stock of modern-day Britain and to analyze what he loved about the country. Let's meet my guest, Anglophile, Tuck Langland to find out what he discovered.
Gail Martin and anglophile Tuck Langland find out what Bill Bryson discovered in Notes From a Small Island.
Original Airdate: January 28, 2017
The Book
Notes from a Small Island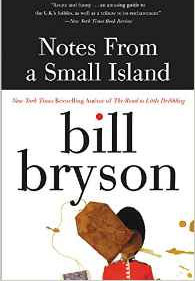 Find this book on Amazon
.
What do you think? Leave your comments below.